Year 10 Berlin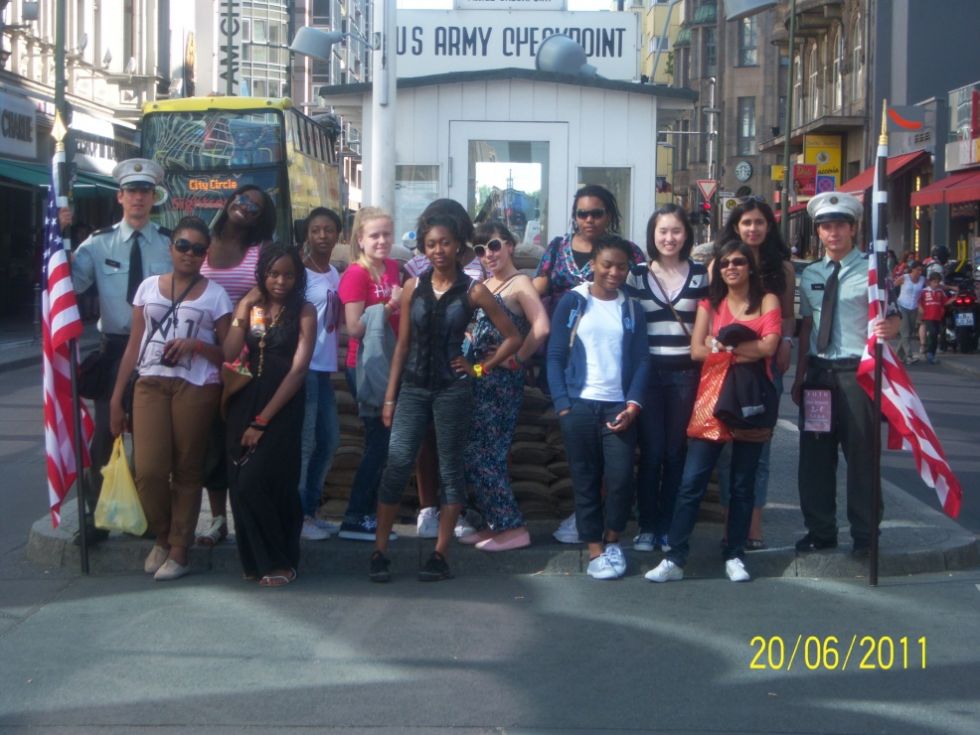 From June 27th to 30th, 13 girls from Y10 went on a residential language and cultural trip to Berlin, capital of Germany. The weather was glorious and we were able to take in many of the main tourist attractions. On Monday, the day of our arrival, we settled into our hotel then made a beeline for the Potsdamer Platz, where we went up the 90m high Panorama Punkt with amazing views over the city. This was followed by Checkpoint Charlie and the Museum am Mauer. By this time, we were all pretty tired so it was time for a quiet dinner out at a restaurant near the hotel.
Tuesday began with an excursion to the zoo, which is where one of the famous scenes from the film 'Emil und die Detektive' was shot. After a quick lunch, we headed for KaDeWe, Berlin's renowned department store (the largest in Europe). Insatiable shoppers, we then meandered in leisurely fashion up the Friedrichstrasse for an hour or so, before returning to the hotel. Time for a quick shower and change and it was back to the Sony Centre at the Potsdamer Platz , where we had a typical German dinner of Currywurst and Pommes and watched the latest X-Men film. Very action-packed! Wednesday began with a jaunt to the Brandenburg Gate and the Hotel Adlon, both of which are well-known landmarks on the Berlin landscape.
We ate our picnic lunch whilst taking in the wonderful sights from on board a river cruiser, chugging its way up and down the Spree. Our last dinner was a jolly affair but then we all had to pack ready for departure the next day. We were, however, determined to cram in as much as we could so on Thursday morning we walked to the nearby Jewish Museum, a moving and thought-provoking experience. It was already time to make our way back to the airport; hard to believe how much we had done over such a short period! A good time was had by all and everyone deserves to be congratulated for embracing all the activities with so much enthusiasm and for practising their German whenever possible.