Sixth Form Events
UCAS Exhibition
The Year 12 visit to the UCAS Exhibition is always a nice day out. Students collect as much information about universities, courses, apprenticeships and other pathways as they possibly can.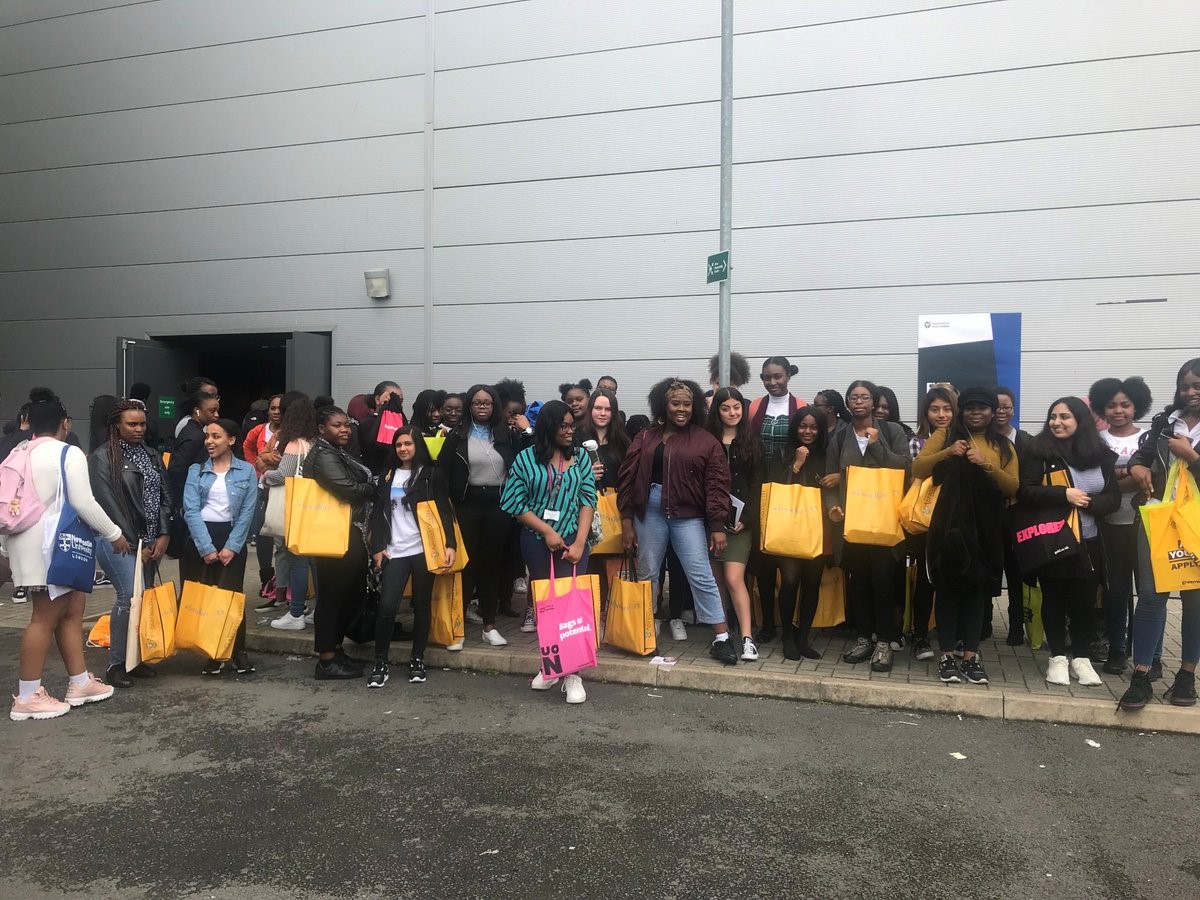 Worshipful Company of Chartered Surveyors and Charles Russell Speechlys Law Careers Evening
Potential lawyers and surveyors from the sixth form enjoyed hearing about progression routes into careers at an evening event organised by the Worshipful Company of Chartered Surveyors and Charles Russell Speechlys solicitors. Our girls heard from graduates and apprentices who had entered both professions by different routes. Much information was gathered and our sixth formers are now beginning the difficult process of choosing the best route for them.
Our photograph shows students with Head of Sixth, Mr Breslin, and Robert Highmore, partner at Charles Russell Speechlys.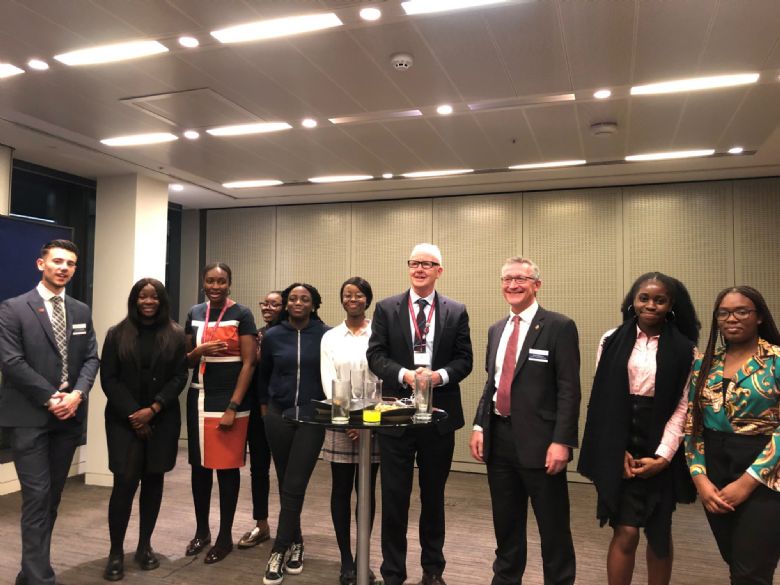 Houses of Parliament
Year 13 students enjoyed a tour of the Houses of Parliament as guests of, good friend to the school, Baroness Burt. Students have known Baroness Burt since attending a Fawcett Society event last year aimed at getting more young women into politics.
October 2018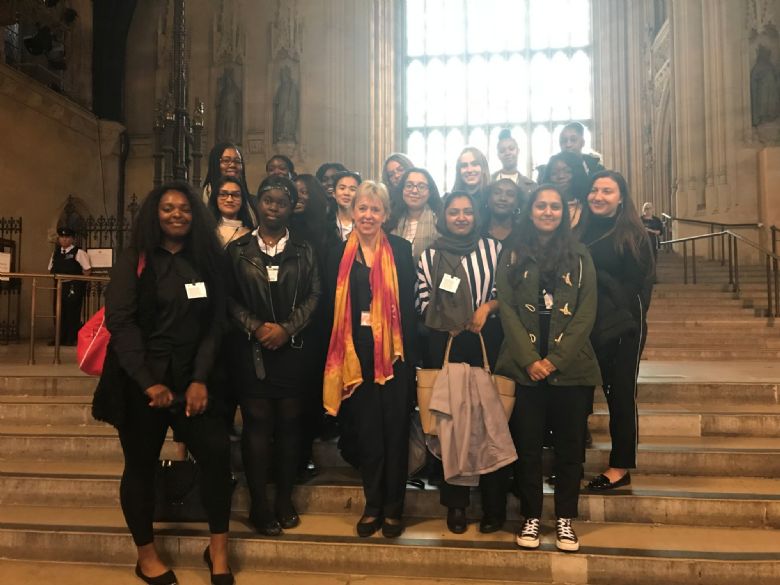 Open Evening
This year, our open evening takes place on Thursday 1st November 2018 at 6.00pm when students will be able to view our facilities and meet with current Six formers. The Head of Sixth Form will talk at 6.30 pm and outline the application process.
Prospective students should be accompanied by their parent or guardian. We are unable to let groups of unaccompanied students attend.
Please send your request to our Sixth form registrar Mrs Hamilton at ehamilton@ssso.southwark.sch.uk
---
Year 12 students enjoying an early visit to Trinity college Cambridge as part of our Elite Academic Programme.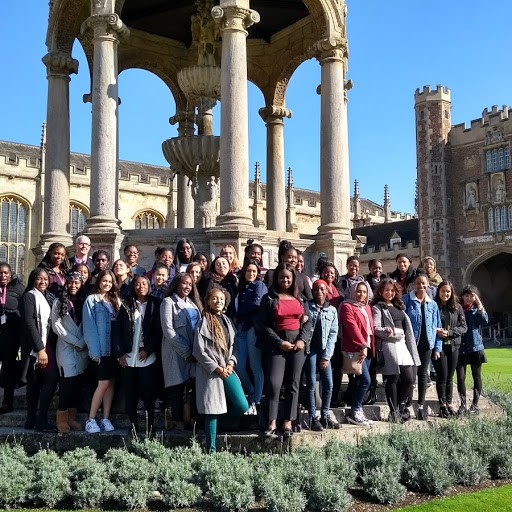 _________________________________________________________________________________________________________
On Monday 12th March, we attended an event at PWC. It was to celebrate the end of the mentoring programme which we have participating in since the beginning of Year 12. The event at PWC was organised to help us develop our business and employability skills. Later on in the day, we got into groups, we did a presentation using a SWOT analysis. We were judged by the managers at PWC. At the end, we found out that we won the competition based on our ability to stick to timing; and evaluate the strengths, weaknesses, opportunities, and threats of working with a particular business. Participants also received a certificate for completing the mentoring scheme. This will be helpful for when I am doing my UCAS application or applying for jobs. I would definitely recommend this programme to anyone who is interested!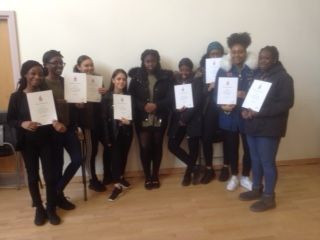 Year 12 students had a successful and informative day on Tuesday 19th June 2018. They attended a UCAS fair at Goldsmiths University which featured over 100 university stalls and talks on topics such as Student Life, Choosing a University and many subject based sessions.
The first week of July, was a busy one for the sixth form team. Our Year 12 students spent Thursday and Friday last week "Living their Subject" – they attended talks and visited museum, art galleries and exhibitions in order to get a real sense for their subject in the run up to their year 13 studies.
Meanwhile our new Sixth formers travelled up to Liverpool, where we held our annual Sixth Form Induction at Liverpool Hope University. They enjoyed en suite accommodation, university talks and a fabulous quiz which tested their teamwork and performance skills.