Maundy Thursday 9th April 2020
Reflection for Maunday Thursday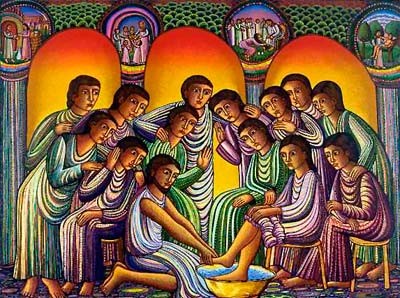 Bible Reading
Jesus knew that the Father had put all things under his power, and that he had come from God and was returning to God; so he got up from the meal, took off his outer clothing, and wrapped a towel around his waist. After that, he poured water into a basin and began to wash his disciples' feet, drying them with the towel that was wrapped around him. When he had finished washing their feet, he put on his clothes and returned to his place. "Do you understand what I have done for you?" he asked them. "You call me 'Teacher' and 'Lord,' and rightly so, for that is what I am. Now that I, your Lord and Teacher, have washed your feet, you also should wash one another's feet. I have set you an example that you should do as I have done for you. John 13:3-5; 12-15

Reflection
Washing the feet of others was the job of the very lowliest servant.
How would you feel if someone you really respect or admire offered to do a very lowly job for you, like emptying your bins, or even washing your feet?

Watch:
Even if you have seen it before, take a moment on this holy day to watch this video of Pope Francis washing the feet of refugees.

Prayers
Today, take a moment of quiet to hold before God refugees and the homeless.