Lady Geek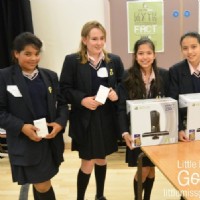 Lady Geek come to School on International Woman's day.
On International Woman's Day, 8th March 2013, campaigning technology agency Lady Geek took over the school for the afternoon to show some Year 7 & 8 students what they could aspire to do in a career in technology as part of their Little Miss Geek campaign the brainchild of Lady Geek CEO Belinda Parmar to bridge the gap between girls and technology.
It was a fun packed afternoon with inspirational speakers from the game and IT industry including Siobhan Reddy studio director for Media Molecule creators of Little Big Planet, technology journalist Olivia Solon, associate editor for Wired.co.uk, Claire Vyvyan and executive director and general manager of Dell, public sector and Laura Paterson from ThoughtWorks.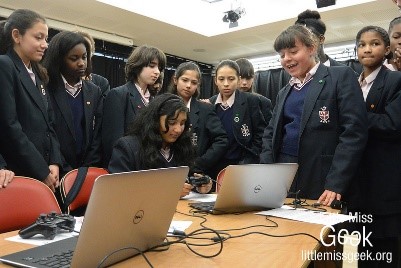 The afternoon also included coding and games-design workshops as well as prizes such as Xbox 360s and Raspberry Pis for the girls who produced the best work. The students were introduced to Alice a Java based animation software which gave the students the ability to create 3D animations. Also, students were able to use Media Molocule's gameplay editor software for their new PSP Vita game, Tearaway. The students really impressed the visitors as they were doing things with the software that they did not expect from them showing their true talent. Local MP and Liberal Democrat Deputy Leader, Simon Hughes was also in attendance at the event and was impressed with the event and the talented students of St Saviour's & St Olave's school.
"Lady Geek was an amazing opportunity. It gave me sight to the IT world and how women are capable of many things. I learnt how to code using complex materials (e.g. Alice) and how to easily create a level using the materials on a game world. It just shows that even though only 17% of the Technology Industry are women, we are able to do much more. I hope that more girls will be able to see this as well." Nariah Nyack-Kaye, 7 Blue.
"It was International Women's Day 2013 and all of us who were picked from Year 7 were waiting nervously outside the activities studio. When we went in we sat down behind a computer and listened to a speech about coding and how there are not that many women in the IT world. Danielle and I then did some coding on a program called ALICE and we made a Nemo themed game. Then in the other workshop we (Melanie and I) made a game that had no theme but was led by the people who made Little Big Planet. At the end we all got certificates but Mr Talbert took them and said he was going to give them out at the end of term! Then they gave out the prizes and I won a Raspberry Pi which is a mini computer." Ellie Robinson, 7 Yellow.
"It was an experience I will never forget and it has helped me to open up my eyes to all the opportunity around me to do with game design and coding. I want to help get more of my friends into game design and technology and coding now that I have seen what amazing options there are out there for me. Having some of the world's most influential women there really boosted my confidence!" Leila Roberts, 8 Yellow
Although, the event was for one afternoon it lead to a whole load of promotion and publicity to highlight the fantastic work of Lady Geek and their Little Miss Geek campaign and the bright young talent of St Saviour's & St Olave's School. With the students appearing on YouTube, the Little Miss Geek blog, Media Molocule's blog, the school being mentioned on Forbes.com and to top it all off on Thursday 21st March the girls were featured in the Independent newspaper and website.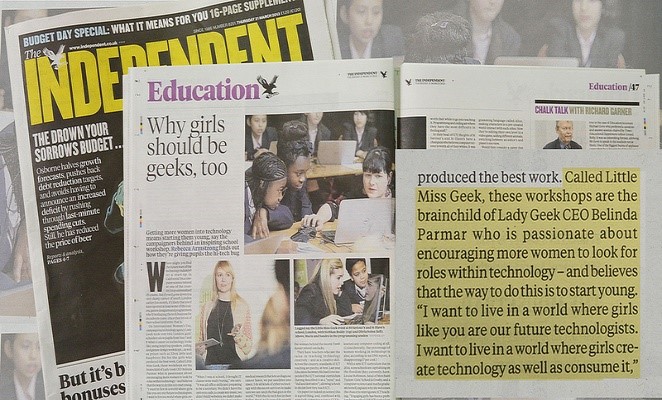 The students really enjoyed themselves and would love to thank Belinda Parmar and Lucie Sarif from Lady Geek, Siobhan Reddy from Media Molecule, Olivia Solon from Wired.co.uk, Claire Vyvyan from Dell, Laura Paterson from ThoughtWorks, Rebecca Armstrong from the Independent newspaper and Mr Talbert for getting Lady Geek to come to our school to see our bright young talent.