Random Acts of Kindness Day - The Report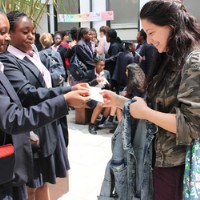 We all owe a huge thank you to our School Council Ethos group who inspired us and lead us through such a wonderful and successful Random Acts of Kindness Day on Tuesday 24th June. Thank you.
We saw fantastic generosity of spirit, reaching out to eachother and the local community, in a day of selfless actiivity. Please read the Main News story for more details and to see some inspiring photographs.
We all owe a huge thank you to our school council ethos group who inspired us and lead us through such a wonderful and successful Random acts of kindness day on Tuesday 24th June. Thank you..
These are just a small selection of some the cards that students made during theirr lunchtime - they are to be sent to young children in different wards at Great Ormond Street Hospital. They look wonderful and are cheerful just to look at, but personalised thoughtful messages were written in each one too. These ranged from musical inspiration with verses of "this little light of mine" written out, to simple "you are a warrior princess."
The cards were encouraging ones, letting people in need know that there are other people thinking of them and praying for them, telling them that they are not alone.
The courtyard got incredibly crowded at lunchtime with so many different cake stalls, ice lollies brought in by parents for sale, bracelets being made, and even positive cards from 7 Red being given to out to passers by.
Students spoke of other kind notes that had been slipped into people's pockets, one form tutor went to the trouble of writing a lovely letter to their form - this generated lots of kind notes straight back. The day was full of really smiling faces. There was a real buzz and it actually caused some staff to shed a few happy tears.
The tea party for some of our elderly community was once such event. invited guests sat down to enjoy the lovingly prepared food, lovingly served to them - as they sat and listened to some of our girls sing and entertain them. They had such a great time and it made them feel so special. I know that at first the girls were a little nervous about how to sit and start a conversation with them, but that didn't last long and by the end of the party they were escorting the guests out walking them down the stairs with linked arms.
Ethel, well known in our school community can be seen here chatting and grabbing another sausage roll. She was quick to get in touch yesterday to say how wonderful it was for her and her friends, and how each other's phones didn't stop ringing all night as they each wanted to talk to one another about it all over again.
So starting right back when the idea was born, to the invites going out - the excitement levels of looking forward to it, enjoying it and now being able to reminisce about it - your kindness has really had a huge impact.
Everyone involved deserves a pat on the back, and we can enjoy the happiness that we feel from what was done. The greater challenge is to be kind not for one moment or special day, but to be always kind. And to be sincere in our kindness, and although we know how being kind to others makes us feel good, this should not be our main concern. The first aim should be to give the love, yet of course in doing so, we will feel joy and the love right back.