YOUNG DESIGNER COMPETITION WINNER TAKES DELIVERY OF GREENPOWER CAR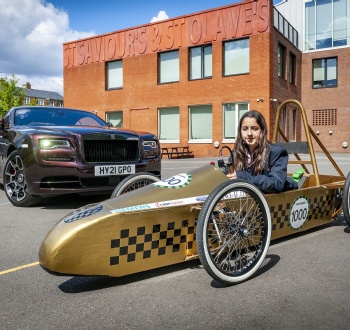 Rolls-Royce Motor Cars presents Greenpower car kit to Year 8 pupils at St Saviour's & St Olave's School. The car forms part of the prize awarded to UK regional winner, Sofia, in the marque's global Young Designer Competition, run during Covid-19 lockdown in 2020.
"We're delighted to present this new Greenpower car to Sofia and her teammates at St Saviour's & St Olave's School. She was a worthy winner in our Young Designer Competition with the wonderful Bumblebee 5000, and clearly has a great imagination and eye for detail. While her winning design was a dream-car of the future, the Greenpower project gives her and her friends the opportunity to design and build their own 'real' working car, in the present day. We look forward to working with them on their design and wish them every success in the racing season to come."
Andrew Ball, Head of Corporate Relations, Rolls-Royce Motor Cars

"This has been a wonderful opportunity for our students to get involved with this environmentally conscious design project. The students have been very excited throughout the whole process, and we really enjoyed the day when Rolls-Royce and Greenpower delivered our car kit to the school. The students are enjoying building it and we are really looking forward to seeing the car and hopefully to racing it once it has been built."
Catherine May BSc (Hons), MBA, Headteacher, St Saviour's & St Olave's School, Southwark

"It was brilliant to team-up with Rolls-Royce to welcome another school into the Greenpower family and provide more young people with the opportunity to take part in our design-build-race a car challenge. We are thrilled that we have a growing community in London and now we have St Saviour's & St Olave's School joining a number of brilliant teams in the region. For over 20 years we have helped engage students in science, technology, engineering and maths, both in the UK and abroad, and shown them how exciting and rewarding a future career in it can be. We hope to continue to expand our reach and encourage a greater number of 9 to 25‑year‑olds to pursue a career in the industry."
Paul van Veggel, Chief Executive Officer, Greenpower Education Trust

Motor car handover ceremonies are an important part of the Rolls-Royce experience. But the marque has delivered a very unusual car to an extremely important person in somewhat unusual circumstances.

Rather than the Home of Rolls-Royce at Goodwood, the setting was the playground at St Saviour's & St Olave's School, a fully inclusive, highly successful Church of England school for girls in inner-city Southwark, South London. The guest of honour was Sofia, UK regional winner in the marque's global Young Designer Competition held in 2020.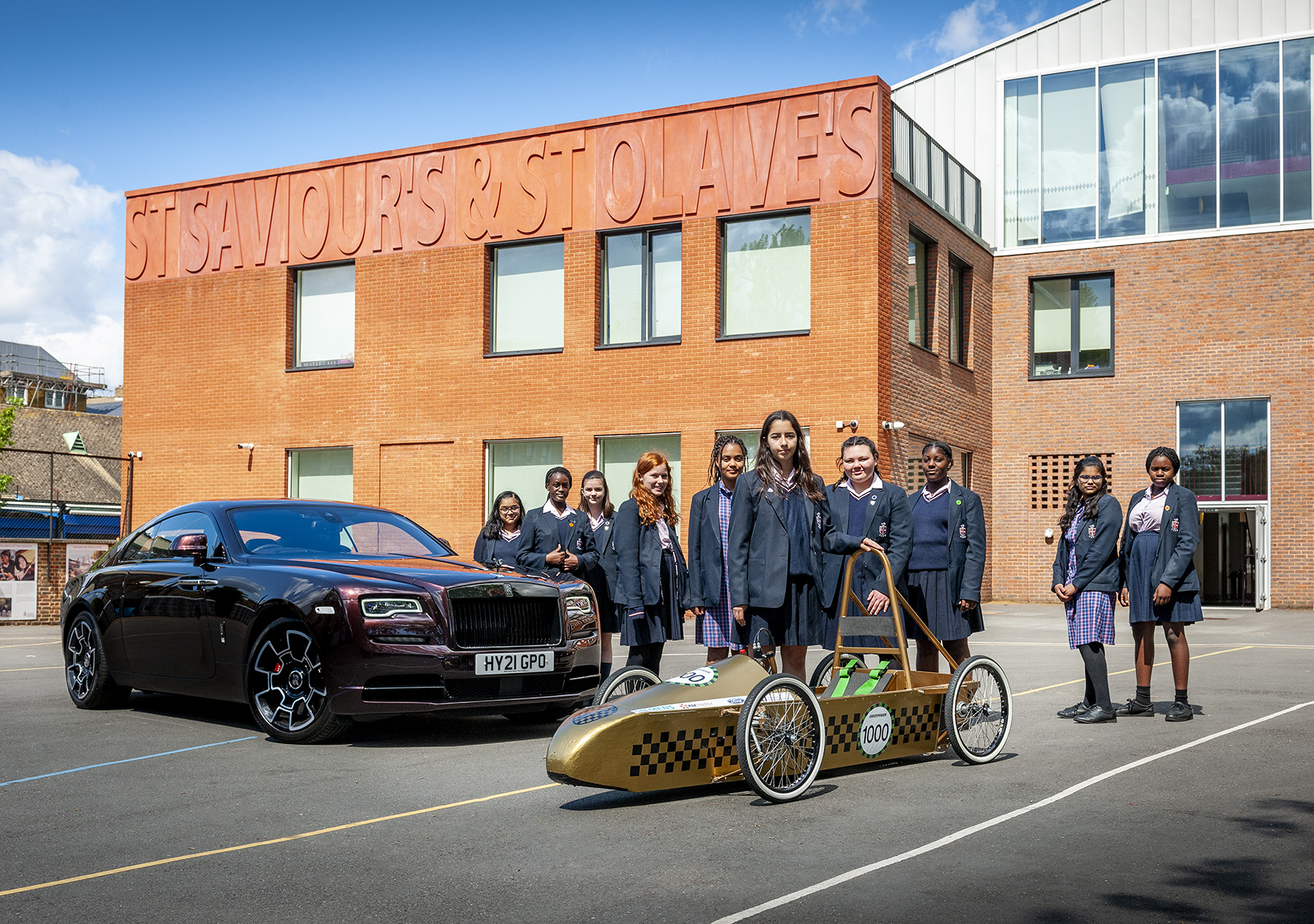 As part of her prize, Rolls-Royce presented a complete new Greenpower car kit to her school to be used in future events run by the Greenpower Education Trust. This UK-based charity aims to inspire young people to excel in science, technology, engineering and maths (STEM) subjects through designing, building and racing an electric car.

The kit comprises a standard chassis, motor and batteries – it's left to the team to design and build the bodywork themselves. Sofia and nine friends, all currently in Year 8, have formed 'The Rolls Racers' to create their car. The team will receive advice and support from Gavin Hartley, Head of Bespoke Design at Rolls-Royce Motor Cars and one of the Young Designer Competition judges.

For all the right reasons, the Greenpower car kit is supplied in a series of highly practical but rather prosaic packing cases. Rolls-Royce felt this lacked the proper celebratory feel for a national prizegiving. Accordingly, the occasion was graced by the official Greenpower demonstration car, finished in a striking gold livery, and a magnificent Wraith, the most powerful Rolls-Royce ever made, brought to London specially from Goodwood.

Although both cars represent the very best of their kind, neither can match the features or capabilities of Sofia's winning entry in the Young Designer Competition. Her Bumble Bee 5000 is driverless, and equipped with comfortable tables and chairs, a disco ball, the best surround sound system, WIFI, GPS, a hook for luggage and much more; it also changes colour depending on the occasion or season.

Launched in April 2020, the competition was devised to provide a creative outlet for children age 16 and under confined by Covid-19 lockdown restrictions. It proved an instant and spectacular success, eventually attracting more than 5,000 entries from over 80 countries.

Asked only to design their 'dream Rolls-Royce of the future', children had complete creative freedom, allowing them to develop ideas of astonishing scope, complexity and vision far beyond the realms of automotive design. Winning entries included designs inspired by (among many other things) unicorns, turtles, space travel, the Egyptian pyramids and Pablo Picasso.