Designer of the Year prize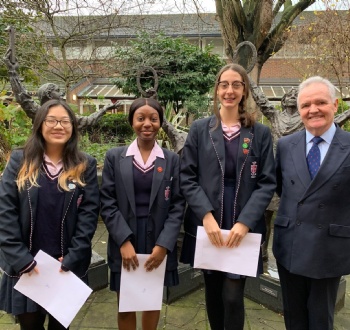 Worshipful Company Of Chartered Surveyors present Designer of the Year Prize to Year 11 Design & Technology students.
Design is everywhere! From our pens and toothbrushes, the buildings in which we live and work through to the sophisticated equipment that supports and surrounds us every day. Everything has been designed. And it is here in school where the seeds are planted for the designers of the next generation. It is the creative minds of our students which could shape the products that we use in our future.
The Designer of the Year prize is awarded to students for the outstanding design work which they have created during their year 10 Design & Technology GCSE course. It recognises innovation and flair and serves to acknowledge their hard work and inspire them to go on the greater things.
This prize is supported by the Worshipful Company of Chartered Surveyors and we were delighted to welcome back Tony Joyce (Master of the company) and Amanda Jackson to give the awards.
The winning students this year were:
Winner Rekiya Shodunke
Runners up Tiffany Ta, Indra Ramku
As well as receiving a prize and certificate the student's names will be added to the honours board in the school hall. It is this final point that students tell us means the most; their names forever on show recognising their achievements.