Library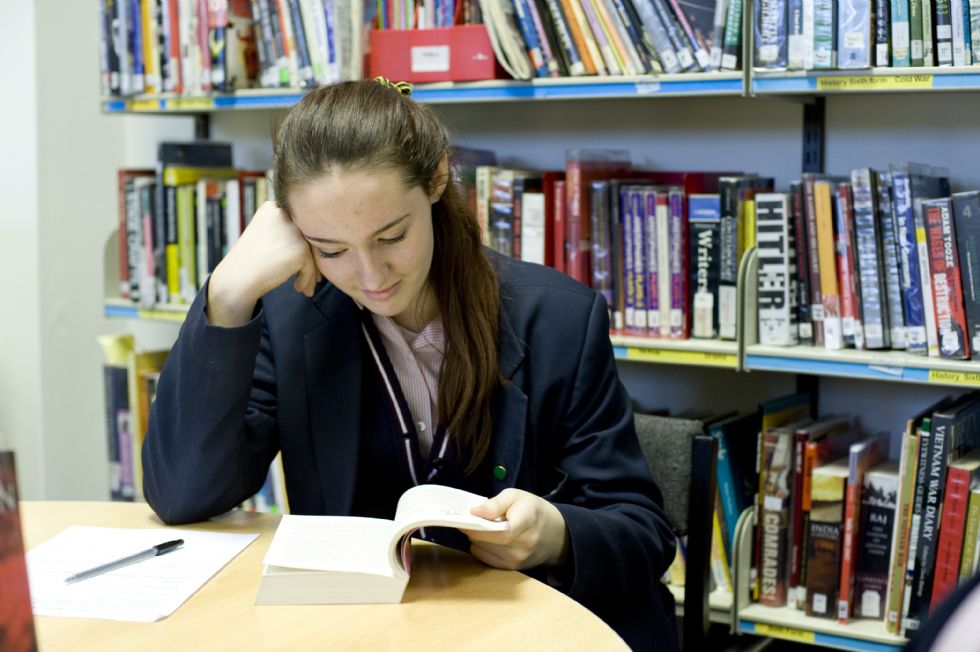 Facilities
The Library has recently been considerably extended into a neighbouring classroom, which became available following the completion of the new teaching block. This provides welcome extra space for the busy use it receives. The new area now has the Fiction bookstock, a soft seating area, study tables, extra computers and laptops.
1. Bookstock
The library contains nearly 12,500 books, of which 49% is Fiction and includes a small collection of audio CD's/MP3 players. The Library liaises closely with the subject departments to ensure the relevance of the material available.
The Non Fiction is classified under the common Dewey system. There is a separate Sixth form section.
The Fiction is divided into sections:
General Fiction / Senior Fiction for yr9 upwards (both shelved by author) and 'Quick Reads' (easier level books aimed particularly at year 7's, reluctant readers, and those with special needs)
Students can search the library catalogue by author, title or keyword. Library staff and the Student Library assistants are happy to assist at any time.
2. Newspapers, magazines and Resource files provide additional material.
3 . Careers Section
Careers leaflets are backed up by additional material, books, college and university prospectuses, and specialist website subscriptions .
4. A photocopier is available for student use for a small charge.
5.Sales
A basic stationery range is sold, and some KS3/GCSE Revision guides are available at cost price. New books are available for purchase through book magazines.
6. I.T.
Computers and laptops with Internet access are linked to the school's network, and are available for girls to use.
If girls have difficulty getting computer access they can ask staff for a priority booking.
There is a scanner and a colour printer .
In addition the Library also has 16 ipads for use in the library and for loan to teachers for class use.