Holy Monday 6th April 2020
Reflection for Holy Monday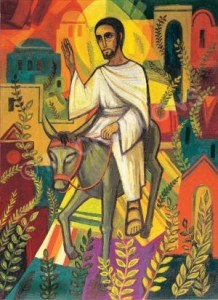 Bible Reading
"As they approached Jerusalem and came to Bethphage and Bethany at the Mount of Olives, Jesus sent two of his disciples, saying to them, "Go to the village ahead of you, and just as you enter it, you will find a colt tied there, which no one has ever ridden. Untie it and bring it here…" When the disciples brought the colt to Jesus and threw their cloaks over it, he sat on it. Many people spread their cloaks on the road, while others spread branches they had cut in the fields. Those who went ahead and those who followed shouted, "Hosanna! Blessed is he who comes in the name of the Lord! Hosanna in the highest heaven!" Jesus entered Jerusalem and went into the temple courts. Mark 11:1, 2, 7 – 11

Watch
Jesus arrives in Jerusalem (from the BBC Passion)

Reflection
The people gave Jesus a hero's welcome into Jerusalem because they thought he was going to be a great military leader who would overthrow the Romans. Of course, they had completely misunderstood who he was and what he had come to teach them.
Have you ever looked for fulfilment in the wrong places?
If Jesus was here today, what do you think he would want us to learn through the Coronavirus crisis?

Prayer
Take a moment of quiet to pray for all those working for the NHS today.