Good Friday 10th April 2020
Reflection for Good Friday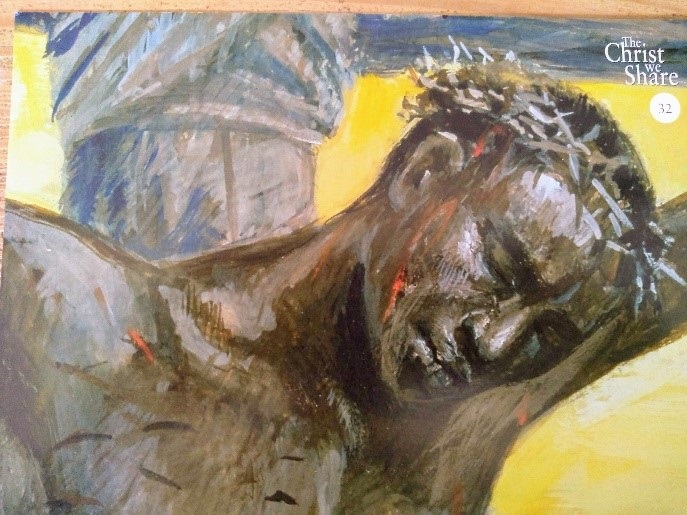 Bible Reading
A certain man from Cyrene, Simon, the father of Alexander and Rufus, was passing by on his way in from the country, and they forced him to carry the cross. They brought Jesus to the place called Golgotha (which means "the place of the skull"). Then they offered him wine mixed with myrrh, but he did not take it. And they crucified him. Dividing up his clothes, they cast lots to see what each would get.
It was nine in the morning when they crucified him. The written notice of the charge against him read: THE KING OF THE JEWS.
The chief priests and the teachers of the law mocked him among themselves. "He saved others," they said, "but he can't save himself! Let this Messiah, this king of Israel, come down now from the cross, that we may see and believe." Those crucified with him also heaped insults on him.
At noon, darkness came over the whole land until three in the afternoon. And at three in the afternoon Jesus cried out in a loud voice, "Eloi, Eloi, lema sabachthani?" (which means "My God, my God, why have you forsaken me?") …With a loud cry, Jesus breathed his last. Mark 15:21-34, 37

Watch: Jesus is crucified



Reflection
Forgive us, Father, for all the times we label others, forgetting each one is made and loved by you.
Forgive us, Jesus, for the little choices that blind us, to the pain we cause others to suffer.
Forgive us, Holy Spirit, for the silent collusion with systems that deny justice and human need, serve politics and convenience first.
Living God, forgive us our inhumanity, the denial of your image set within us; pour your grace on this, our sorrow, that we may find the courage to change and honour your love for us. Amen.

Prayer
Take a moment to pray for yourself, bringing all your worries and concerns to Jesus and leaving them at the foot of the cross.