English News
Cambridge Univeristy Visit:
Just before the Easter Holidays, our A Level students visited Cambridge University Library to conduct research on Shakespeare and Ancient Greek drama.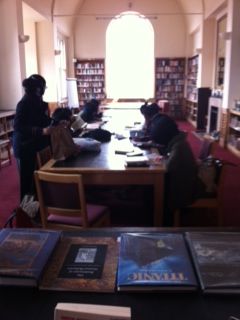 Arvon Writing Course:
In February, 8 lucky year 10 pupils were invited to spend the week at Totleigh Barton, an Arvon Writing Centre. The aim of the week was to find their creative voice and produce some excellent work.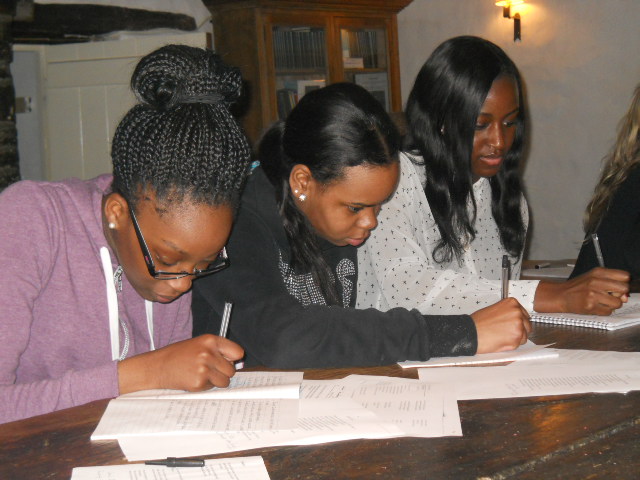 Here's Pamela's account of her wonderful week.
Before half term I had the opportunity to spend a week at Totleigh Barton's Arvon centre along with seven other year 10 students, Ms Moran, and eight students from St. Michaels & All Angels, where we had the pleasure of working with two published poets. A scenic train journey and bumpy coach ride, surrounded by hills and forests, led us to our home for the week: a 1000 year old farm house.
The mornings were spent in three hour workshops led by the writers, leaving time in the afternoon to read, write independently and get inspiration from our surroundings, and the huge volume of books in the Arvon library . We were able to develop our creative skills, listen to each other's work and, during evening readings, the writers would perform some of their work. It was a real privilege. We were responsible for cooking our own breakfast and preparing dinner and dessert for everyone, which we did in teams, as well as clearing up after ourselves.
By the end of the week everyone (including the teachers) selected a piece of writing that they were proud of which was included in our anthology named 'Born in a Barn'. We finished the week reading our work aloud to everyone, just as the professional poets had done on the first night. Overall it was a great learning experience which allowed us to find and exercise our creative muscles. We are very lucky to have participated in such a wonderful, enriching experience. Thank you Dr Bishop.
By Pamela Dias Da Silva 10Red