Easter Sunday 12th April 2020
Reflection for Easter Sunday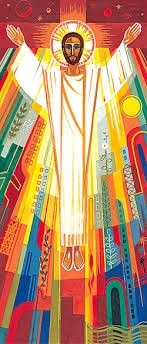 Bible Reading
Now Mary stood outside the tomb crying. As she wept, she bent over to look into the tomb and saw two angels in white, seated where Jesus' body had been, one at the head and the other at the foot. They asked her, "Woman, why are you crying?"
"They have taken my Lord away," she said, "and I don't know where they have put him." At this, she turned around and saw Jesus standing there, but she did not realise that it was Jesus.
He asked her, "Woman, why are you crying? Who is it you are looking for?"
Thinking he was the gardener, she said, "Sir, if you have carried him away, tell me where you have put him, and I will get him."
Jesus said to her, "Mary."
She turned toward him and cried out in Aramaic, "Rabboni!" (which means "Teacher").
Jesus said, "Do not hold on to me, for I have not yet ascended to the Father. Go instead to my brothers and tell them, 'I am ascending to my Father and your Father, to my God and your God.'"
Mary Magdalene went to the disciples with the news: "I have seen the Lord!" And she told them that he had said these things to her. John 20:11-18

Watch: the resurrected Jesus appears to Mary

Reflection
The resurrection of Jesus is the ultimate good news story – death turns to life, love wins over evil! It is a message that whatever challenges and suffering we face in life, God's love is bigger and he promises to lead us forwards into new life. Sometimes it is really hard to keep believing this, but the Easter story is a huge reminder to lift out eyes to our God of hope, whose love will always win. Perhaps it is no coincidence that this message comes in the middle of our coronavirus lockdown
What signs of resurrection can you see in your life today? Think of anything positive that you can be thankful for.

Pray
Make this day, Lord, a step closer to heaven. This day, Lord, may I know myself loved and valued. This day, Lord, may I notice the beauty around me, in things great and small. This day, Lord, may I not miss the messages of Joy, of peace, of hope that you send me. This day, Lord, this day…make the day of my resurrection. Amen.
Celebrate! ​​​​​​​Sing along with London community Gospel Choir or just watch if you prefer!