A Level Results 2021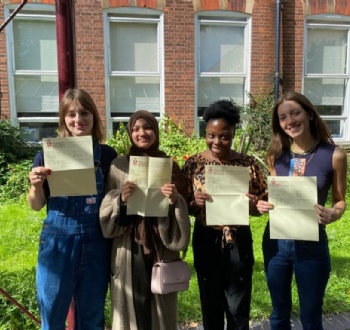 St Saviour's and St Olave's School is celebrating another fantastic set of A Level results and we are proud of the achievements of all our students.
Amongst the extraordinary grades our students have achieved, we celebrate the success of Saschay Ducran-Grant and Keziah Whittlesea who both achieved A*A*A*, Laura Colin and Charlotte Martin who achieved A*A*A and Deborah Esan who achieved A*AA. We are delighted that Deborah Esan will be studying Modern and Medieval Languages and Linguistics at Cambridge university.
Pleasingly, all students who wanted to attend university have been accepted to study at a wide variety of institutions, many of them Russell group. This is a real testament to the success of our ambitious sixth form and our determination as a school to ensure that all students flourish.
Catherine May, Headteacher, said: "I am absolutely delighted with the grades our year 13 students have achieved this year. Their grades are quite simply stunning, and their university and apprenticeship places are exactly what they deserve. Students and their teachers have managed the most challenging of circumstances throughout the last 18 months and these fantastic outcomes are testament to their determination, their resilience and consistent hard work. I am proud of all that these girls have achieved and am confident they have very bright futures ahead of them. I want to thank them and their families for working with us throughout these extraordinary times to achieve these impressive outcomes and destinations. It's been a privilege to have been a part of their journey. I look forward to hearing about all they will undoubtedly continue to achieve."
Deputy Headteacher, Michelle Ferguson who led students and staff through the process of teacher assessed grades said: "Our students are ambitious, talented and tenacious. They have worked incredibly hard and deserve the excellent grades they have achieved. I am confident that they will continue to excel and fulfil their potential as they move on to the next stage of their lives. I am so proud of them and grateful to our staff and parents for working with us to support our wonderful students."
Head of Sixth Form Hannah Kennedy said: "We are so proud to be able to celebrate the exceptional achievements of our Year 13 students today. This year has required them to have more independence, determination and resilience than ever before and we have felt continually humbled by their commitment to their learning at every stage."