London Philharmonic Orchestra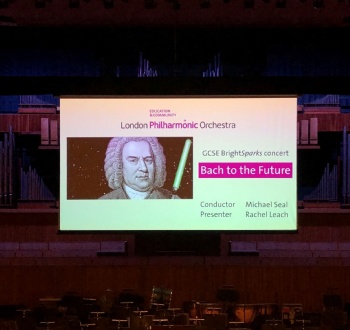 On Tuesday 11th February we took 26 girls from years 9 and 10 to a concert at the Royal Festival Hall. During this concert, important pieces of music that relate to the GCSE syllabus we follow were performed by ensembles of varying size - from two people clapping to a full symphony orchestra - and accompanied by a detailed analysis of the music we heard.
The concert started with Clapping Music by Steve Reich, followed by a section from Vivaldi's Four Seasons, the 3rd movement of Bach's Brandenburg Concerto in D major, selections from Aaron Copland's Rodeo, and finishing with the Main Title/Rebel Blockade Runner from John William's music for 'Star Wars'. The concert was conducted by Michael Seal, the same conductor that conducted students from St Saviour's and St Olave's at our performance of Mozart's Requiem with the Merchant Taylor's schools last year!