Persuasive Writing Skills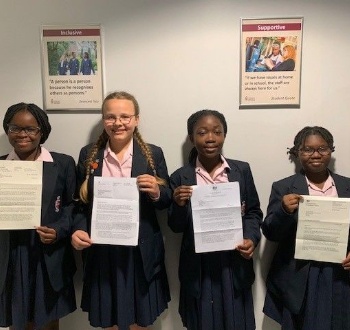 As part of their English unit on persuasive writing skills,
students in 7 Orange wrote to an MP and Minister to advocate for change regarding an issue of their choosing – topics included the gender pay gap, air pollution around schools in Southwark, concerns around knife crime and the number of school exclusions in parts of the country.
The students pictured returned to start Year 8 with the news they had received thoughtful and lengthy replies from a variety of government departments. One letter stated: "It is very encouraging to see a young person with an interest in current affairs, also with the drive and determination to become politically involved." We are very proud that our students are living out the values we promote at SSSO and hope that their actions inspire others to engage with the political process - regardless of age. Well done, girls!