BSF Interview with Elise John-Lewis
Interviewer: Michelle Scribe: Tumi
As a Project Skills Coordinator currently employed by Balfour Beatty Construction Ltd (the first time she's worked within a Construction company), Elise's days are often filled with people, paper work and phone calls, but they are never boring, as she happily told us in this interview.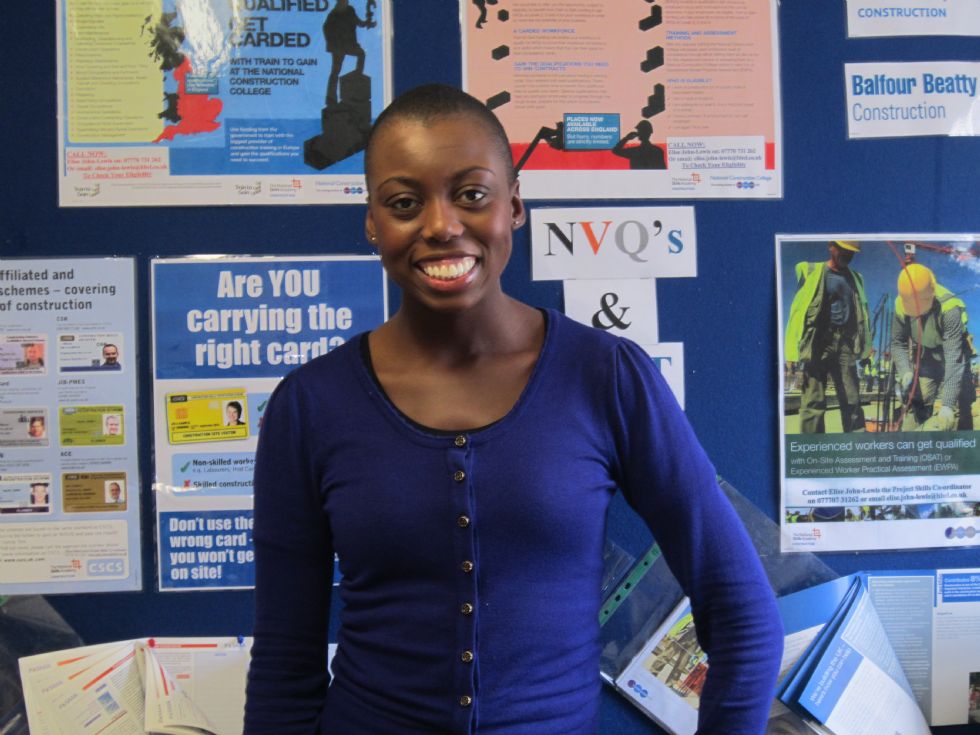 To start with, could you give us a brief description of your job?
I'm not sure I can sum it up accurately and with specifics as there are so many different aspects. Essentially, my main objective is to work with the local community and those affected by the Southwark BSF project. The aim is to get them involved, offer employment opportunities and apprenticeship and educational opportunities for young people. I try to promote the construction industry, and careers within the industry.
How hard would you say it is to get into this job sector?
Not hard at all if you have the drive and determination. Often the biggest problem is people not even knowing the job opportunity actually exists. It's also important to do as much research as you can into the role, company and what the job entails. Also, the more passionate you are the better.
That does sound like a lot, how did you get to where you are now?
When I was younger, I had always wanted to be a police officer, but I'm quite bad at remembering things and I would need to know legislation etc. Plus I'm not too keen on the running after criminal's part. Then I wanted to be a teacher, but I fear I would have become too emotionally attached to the kids. Moving into secondary school, I realised that I was quite interested in the subject of people, and the GCSE's I took reflect that in some way. So, I took textiles, drama, sociology and history. At A-level, I studied History, Sociology and English Lit. Lastly, for my University degree, I studied sociology.
Does having your sociology degree help a lot in your job?
Yes. I have no doubt its helped to have a better understanding of people, which is useful because I deal with them pretty much every day but a business studies degree would have gone a long way to helping me with the overall understanding of the company and ultimately what we do / how we work to make profit.
Is admin a big part of the job?
No, thank goodness. I have no boring days, but my 'admin day' is by far the least exiting. I have to make presentations to show stakeholders and colleagues the progress of the project in line with our Key Performance Indicators (KPI's) I also have to produce spread sheets and write reports on all of the information collected over a period of time.
From your GCSE's to your university degree, the subjects you chose are all essay based; why no science or maths?
Gosh no… the subjects I took require you to be comfortable with expressing yourself, your opinions and explaining exactly what you mean, which I love to do. Also the idea of answers having to be structured and definite like in the sciences and maths is not a very appealing one.
So you would recommend a job like this to people who are more into the interpretation of things than finding exact answers?
Most definitely as I find this quality allows room for personal growth. But I also feel that you have to be quite confident and willing to preserver as well as resilient to do my job. I had to learn to manage my own time as I have defined objectives, but no fixed method to achieve these. In the end I found that doing my work well was not only of personal benefit to me, but to the community as well as I was able to see the positive changes I was making.
What kind of work experience did you do and would you say it help you a lot on what you do today?
The first opportunity I had of doing something related to sociology was working as an administrator for a company that dealt with mental illnesses, which was quite an eye opening experience. I also worked in customer services for a bus company, one of the things I had to do was inform people when their tubes had been cancelled or there had been a diversion (grimacing). As you can imagine people were not too welcoming of the information I had to give them, there were quite a few unsavoury characters. Then I worked in New Look clothing in which I dealt with a variety of people, some lovely and polite, others not so much. I think all these were useful because they helped me better understand how to deal with people.
So from early on you were already involved with members of the public. Could you tell us a little more about your work?
A large part of my role is recruitment. I organise employment opportunities for the community. Specifically, I deal with recruitment for subcontractors who wish to employ local people. We hire companies that specialise in different aspects of the building process from ground works and steel frameworks, and closer to the end of the project we'll need to hire electricians and plumbers.
How exactly do you help companies with recruitment?
Well firstly, I ask them if they have any vacancies or job opportunities. If they do, I help the to construct a description of the job and type of work they have available. I send this off to community groups, youth groups and job centre plus offices who then let me know if they have anyone suitable for the job. I then arrange an interview between the company and individuals. It can often be a lot of back and forth, but it does help to get young people or local residents on the employment ladder.
Yes, but wouldn't it just be easier for the subcontractor to contact these centres themselves instead of going through a middleman- sorry, middlewoman?
Sometimes employers don't want to go through the hassle and expense of advertising vacant positions, meaning people miss out on these opportunities. With me, all they have to do is hand over the jobs they have and I do the rest for them. That way I can guarantee local residents have access to the opportunities.
How many people do you think you've helped with employment in this way?
Hmm… I'm going to have to split my answer up for his one. Through the service I provide, 18 people have become apprentices, over 100 local residents are working on the Southwark BSF project and around 40 work experience positions have been taken up by school, college and university students.
Wow, you do work experience as well?
Yep, assist companies and / or colleagues to create schedules for work experience students and ensure they have enough activities to keep them occupied. Most companies / colleagues are ok with this and are very cooperative as it is a chance for them to get young people interested in their sector. Plus the two weeks in July when Yr. 10 are looking for work experience are most definitely our busiest, but I try my hardest to make sure as many people as possible have a place.
In regards to the employees, the apprentices and work experience places are you ever directly involved with the interviews?
I try not to be overly involved as I encourage it to be a real life working scenario with the individual working directly for their Supervisor / company. However, I am always available to assist should there be any complications.
I know these interviews are probably not as serious as an interview at a bank perhaps or a well-known international company, but do companies have expectations of the candidates if so, what would they be?
People do assume that they can just show up and that's it. They have to understand that first impressions are very important; sometimes this can even decide whether you will even be considered for the position. You have to have done your research about the company and the job you're applying for in order to show your employers that you are bothered and have bought into the company ethos. You also need to have a good level on enthusiasm and a willingness to learn.
You say this is your first time with this particular company, how have you been finding it so far?
I'm finding it good so far. It's exciting because there are a variety of things that I'm able to do and get involved in, but it is also quite challenging too.
In what ways would you describe it as challenging?
Well this is a relatively new post. Before me there hadn't been another Project Skills Coordinator doing exactly what I do so I guess I am learning but also teaching my colleagues as I go along.
You mean in the whole of England?!
Certainly for my company in London. I think construction companies are now realising that keeping local residents in the loop about the work taking place near them but also giving back to the community in the locality is a good thing. This ensures that they will be more readily accepted by the local community and this rapport will no doubt help them with their legacy and with future clients.
So you're like a peacekeeper between the construction company and the local council.
Sort of, I have to think about any implications there might be on the local people, our clients or stakeholders and ensure everyone benefits from the project not only post construction but during the build also.
Your job sounds quite crucial to the progress of the company; it's strange that they hadn't created such a post earlier. What would you say the pros and cons are of being in this new position?
Well a really good thing for me is that there are no limitations on the things that I can do. As I have no predecessor, I have no boundaries to exceed to fail to exceed. I've just been given an objective and I'm in control of how I reach it, however, I still have to reach it. I'm also in a position to have a positive impact on the community, regardless of how small, even if it's by reassuring the community that they are being taken into consideration or helping teenagers find work experience, I feel like I'm improving things in my way. Due to this being new territory, I have to be the person that accepts the responsibility for an area previously left alone, I have to generate my own contacts and audiences. For example all the companies that I speak to regarding work experience have received a lot of phone calls from me. At first most of them wouldn't even give me the time day for a meeting, or even worse, they would promise to call back and I wouldn't hear a word. But I kept calling and emailing until they understood that I wasn't just going to go away; we had to sit down and talk. Eventually they began to give in and I was able to start coordinating. On that front, things could have gone a little smoother, but accomplishing that gave me a great sense of achievement.
Do you not have a boss, or someone who tells you what to do?
Yes, of course, I have a Manager. I meet her every four weeks or so to catch up on the progress of my tasks and to go through plans and time scales. In this way, there is no one over my shoulder constantly asking for updates and figures and I feel I'm able to get more things done. I know she is always at the end of the phone should I need any support or guidance.
Do you still get disappointed by people still not willing to give you some time or people who side-line you?
Definitely, but I've learnt that there is only so much I can do and this largely depends on the cooperation of other people, if they let me down, I don't see it as my fault but rather as a reflection of their own integrity.
Have you ever worked on a project that wasn't a school?
No I haven't but I hope that Balfour Beatty Construction Ltd will introduce KPI's in this area on commercial as well as public projects.
Which other school projects have you undertaken and which ones have you enjoyed?
I am currently involved with New School Aylesbury, Notre Dame and Bredinghurst Schools which are also part of Southwark BSF. I'm enjoying all the projects but my most notable one is Tuke School in Peckham. The school concentrates mainly on children who have special requirements and the changes that we made have made facilities more accessible for the children. For example, we used tactile elements walls on the make it possible for children to know what area of the school they were in. The modern technology introduced will really make a difference to the pupils.
From what you've been telling me, you seem to have dealt a lot with people and are still having to do so. What sorts of things have you picked up along the way especially in relation to this fact?
Well at first, in jobs like working for a bus company, people would get annoyed at the news I would give them, they were understandably hostile and some were just plain rude. I quickly learnt not to take the comments too personally and to reassure myself that I was providing a service and that this was part of the job. This is a universal attitude which has stood me in good stead in all my jobs.
Clearly you are very satisfied with where you are currently, but where do you see yourself in the future?
You're right I love my job and I would love to carry on doing this. In the future, I would like the opportunity to manage a team of people like me, but I would really like to remain in this sector.
Lastly, what general advice would you give to people of my age based on your experiences?
Well I know that at this time of your lives you are probably worrying about exams and I honestly believe that you should push yourself to your highest capabilities, it seems a daunting task now- believe me I know- but I promise that you will look back and realise that it was necessary; it'll all be worth it in the end. Personally, I know that I could have pushed myself that little bit more because for A level Sociology I got an A but could have made an A* and in my Sociology degree at university, I achieved a 2.1 and I know I could have left with a first. Don't get me wrong, I am very pleased with those grades, but it's a nice feeling to be able to say you really did your best.