Art News
Nikon Photography School:
12 students from our A level Photography courses had the privilege of taking part in a workshop with the Nikon Photography School. Students were given professional advice on how to light their shots and also how to "hack" the gear we have in school, making several exciting experiments and outcomes. Students also got to use top end Professional cameras and have tutorials with industry professionals. These same students will be returning to the Nikon Photography School in January to learn more! Watch this space.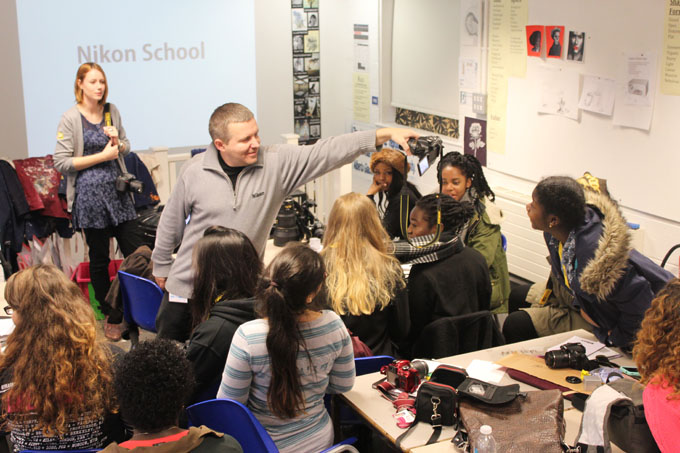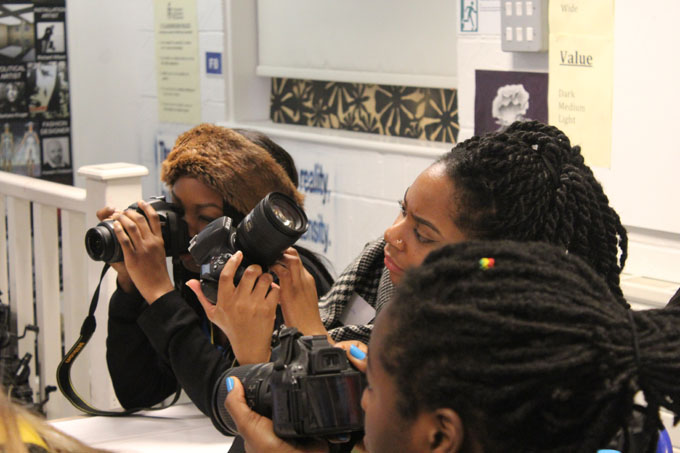 12 students taking GCSE Art also attended a seperate session at the Nikon Photography School, where they learnt the basics of lighting a model, and how to use the manual cameras settings. This has had a huge impact on what the students realised was possible and is already having an impact on their Art.
Advent Art Tree:
We ran a competition for all staff and students to make work for a giant advent calendar. The Christmas Tree was made from 25 picture frames, and winning entries were unwrapped on a daily basis to reveal more Christmas Cheer!
Winners got a chance at the lucky dip, winning prizes such as Art materials, Luxury Christmas decorations, Decoration making kits and of course sweets.
Thank you to everybody who entered!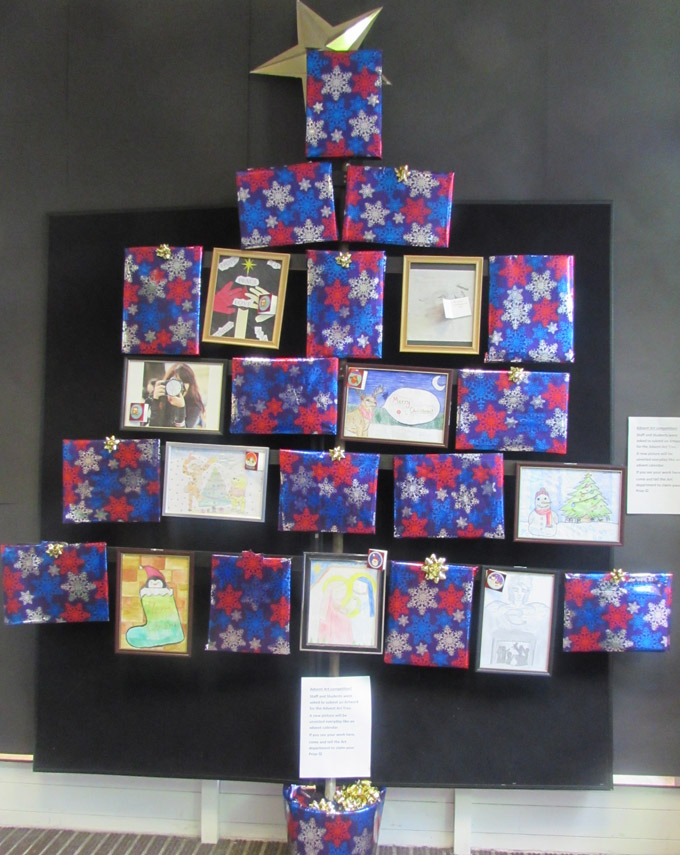 Remembrance Exhibition:
The Remembrance Exhibition was held between the 11th and 28th of November in our school gallery space "the Tank Room". This was a cross curricular exhibition held to help learn about and commemorate the first world war in this Centenary year. Several members of staff lent their own family artefacts for display, including medals and military uniform.
The Art department worked with Maths (to produce scale model trenches in clay), Health and Social Care (to produce an audio installation about life in the trenches and the effect on soldiers afterwards), Science (to produce a display about the scientific advances and atrocities in the war), History (who met and interviewed survivors of the second world war with the BBC) French (whose students translated French letters from the trenches) and English, (who used the atnospheric space for creative writing sessions).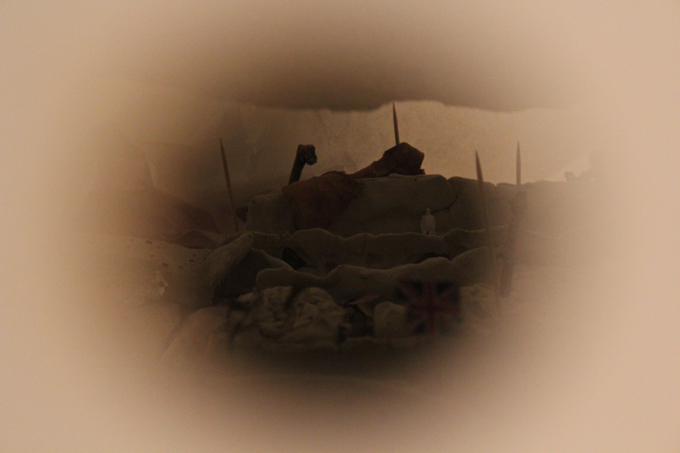 Our KS3 Clay Club also exhibited a poppy made from clay dog tags, and a war damaged miniature town.
Several drawings, paintings and even an animated stained glass window were also exhibited by our A level Art students.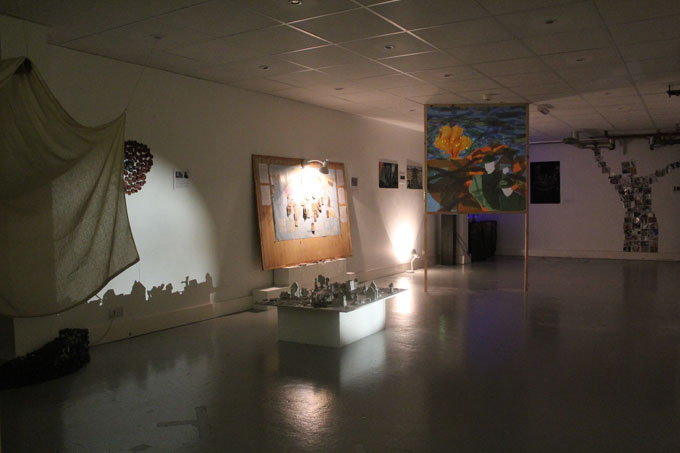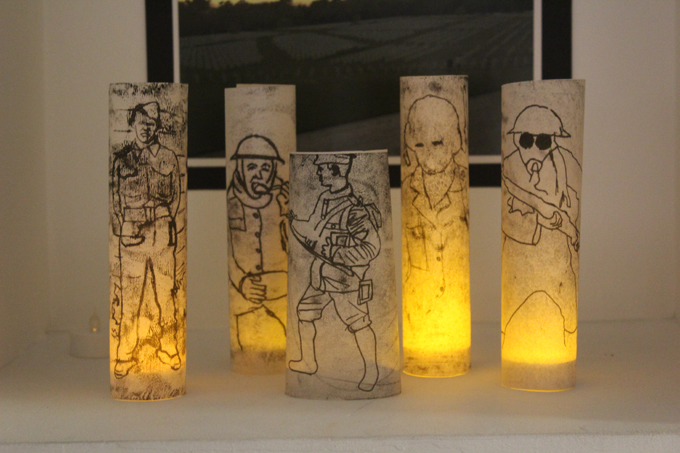 Visitors to the exhibition said that it was a moving experience, and particularly liked the prayer map- a space set up by Reverend Imogen to allow visitors to pray for peace in war torn countries today.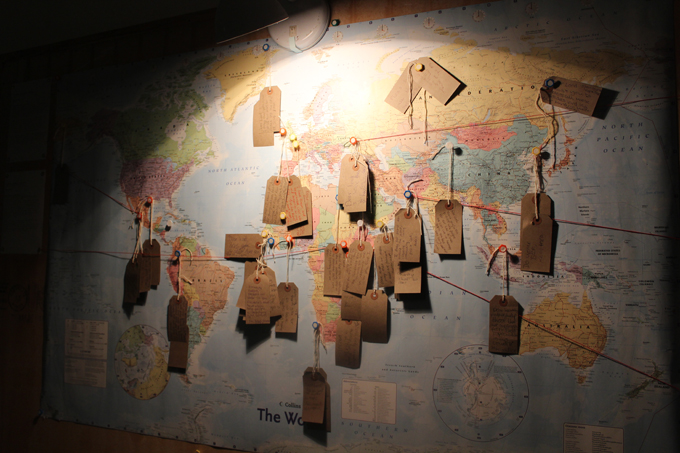 Clay Club a huge success:
KS3 Clay Club was a huge success with several pieces of work included in our remembrance exhibition. Students learnt how to manipulate clay to create scale model buildings and commemorative Dog tags. Mr Moore said that there was a great atmosphere every week with the club full to capacity.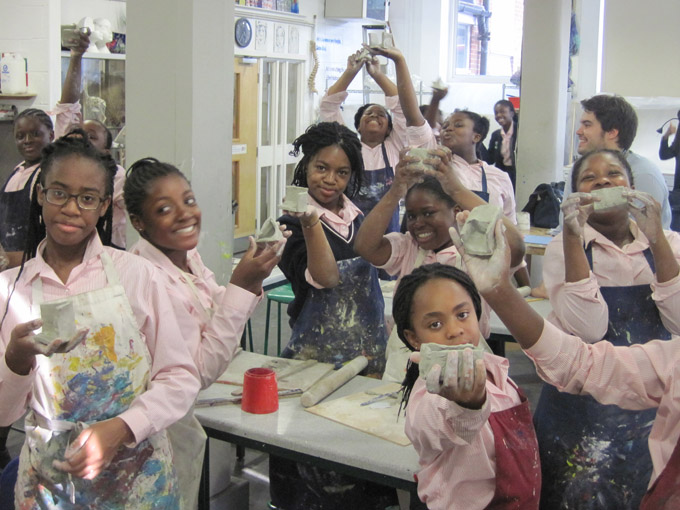 Stained Glass Windows:
Our new AS Art students set about transforming the school dining hall with their fantastic "stained glass window" installations. Working with found materials, tracing paper and acetate, they were tasked with transforming the mood of the canteen- which they did with great sucess. Some students have also created animations to back-project onto their windows, seemingly bringing them to life.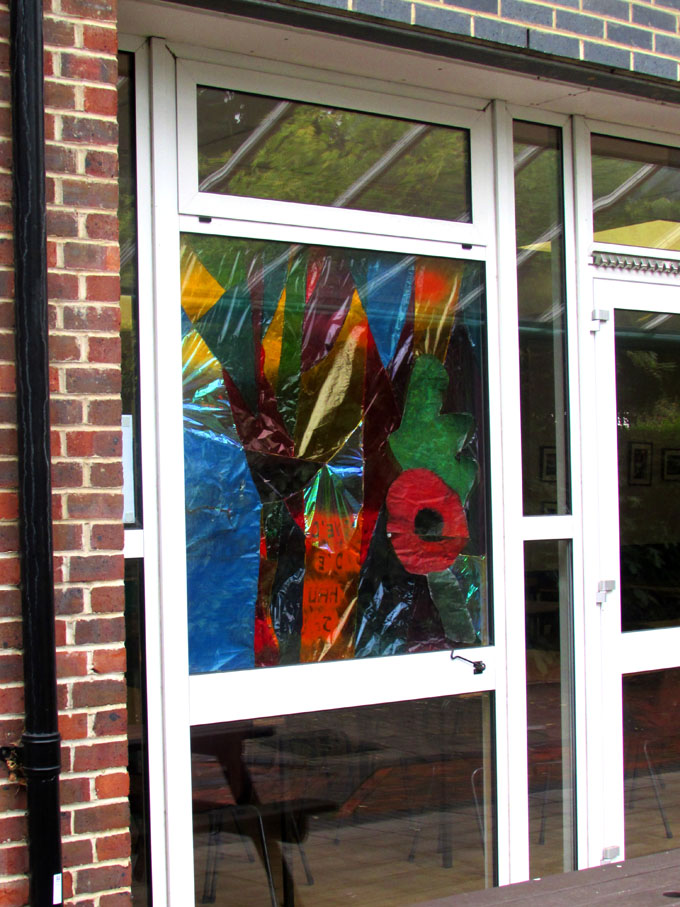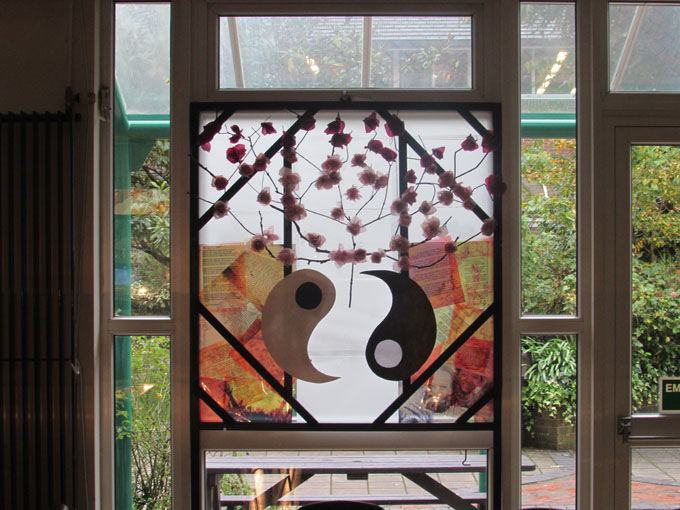 Mayflower Gardens:
Year 7 have been taking advantage of the great weather we've had recently to develop observational drawing and painting skills in response to David Hockney. Mayflower Gardens looks beautiful with the flowers in bloom and The Shard standing tall in the background.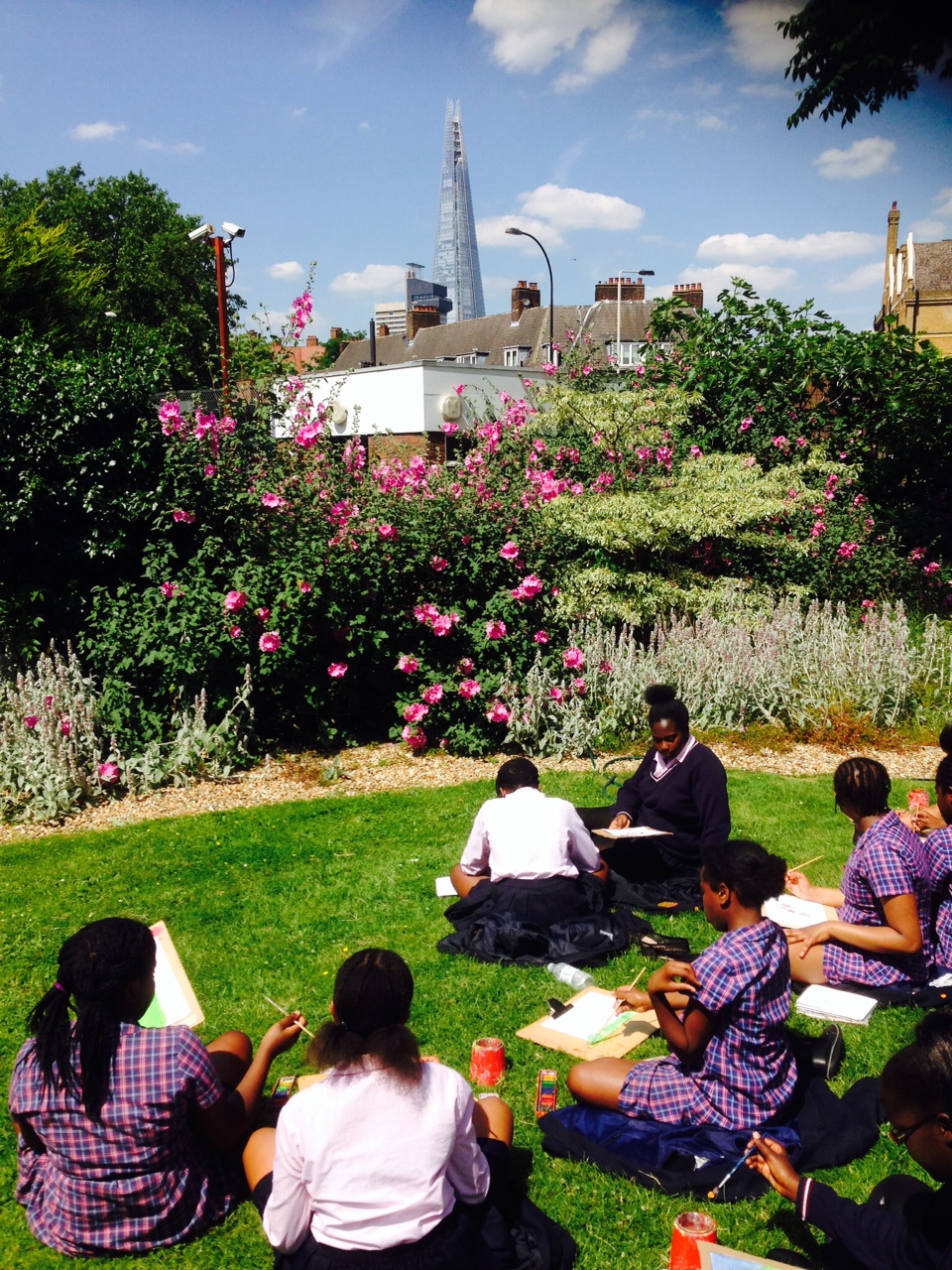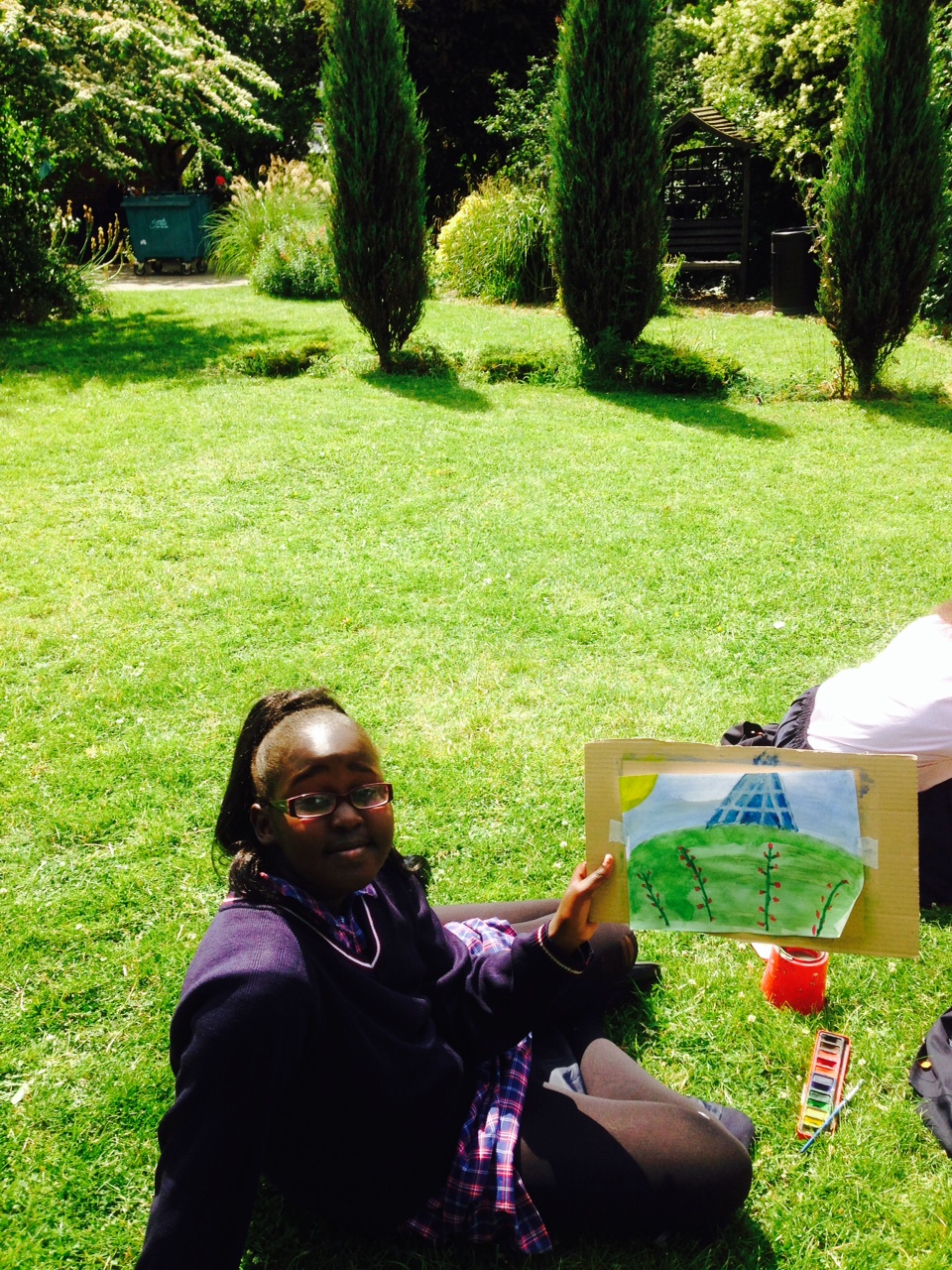 In the pink at the White Cube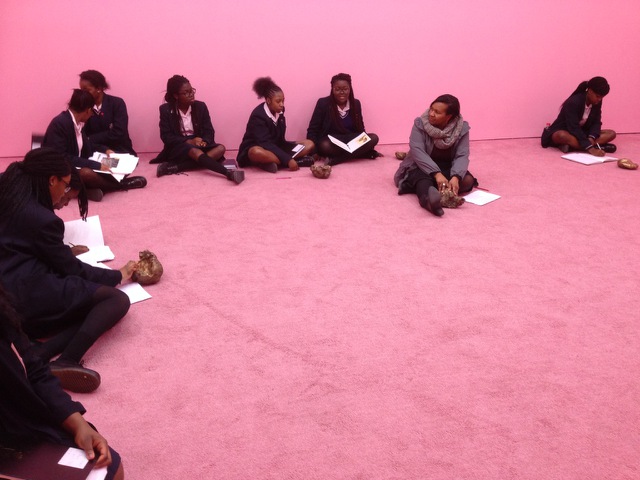 Year 10 and 11 students had the opportunity to visit the White Cube gallery,in Bermondsey. This term the students were able to see the works of three artists:
Franz Ackermann, who explores the ideas of urban areas undergoing rapid growth and development, Daren Almond, who has produced a series of photographs taken under the light of a full moon using long exposure, (enabling details undetectable to the human eye to be revealed) and He Xiangyu a conceptual Chinese artist, who uses a range of media to articulate cultural and social concerns.
Mrs J. Bowens
What the students said:
'I thought that the gallery visit to the white cube was very interesting and inspiring. This is because the pieces on display were very unique. For example, one of the rooms within the gallery created an illusion that we were inside of the artist's mouth. The artist He Xiangyu did this by painting the walls of the room pink and covered the floor with a pink carpet. He created small copper casts of his teeth and placed them randomly within the room. As the viewers of the piece we were able to touch and feel the rough surfaces of the cast and the smooth texture of the carpet within the room.'
Elizabeth Quaynor 11G
'When visiting the works depicted by Franz Ackerman, my initial impression was a sudden
surge of excitement. The use of bold strong colours highlighting urbanization at its finest
was really inspirational. It was also really interesting to see how this topic could be portrayed through cubism. The artist explored mixed media using watercolour drawings, photography
and acrylic paintings.'
Zoe Gyamfi and Jessica Quaynor 10G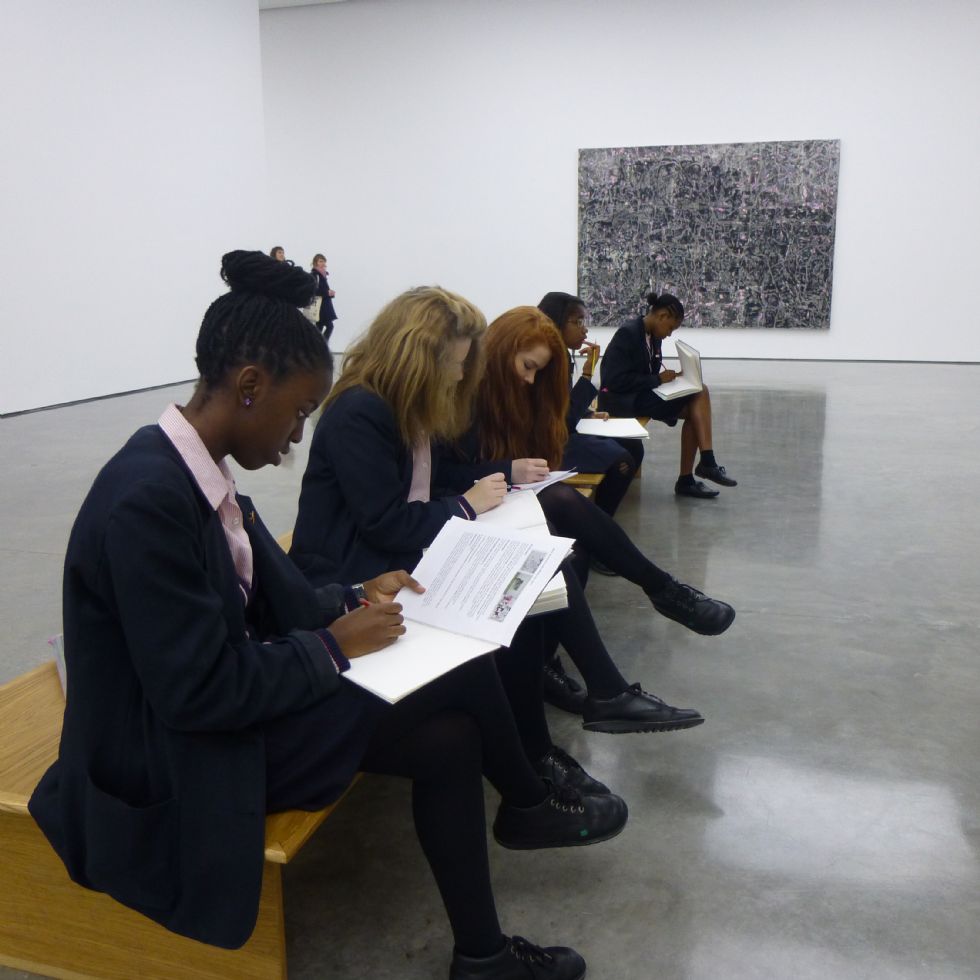 It has been a busy time for the Art department with trips to the White Cube to see Mark Bradford's stunning collage work, Sixth Form students taking part in the Nikon Photography school project and also working with Gasket Gallery on an architectural photography workshop. More trips are planned this term to see the Martin Creed exhibition at the Hayward Gallery.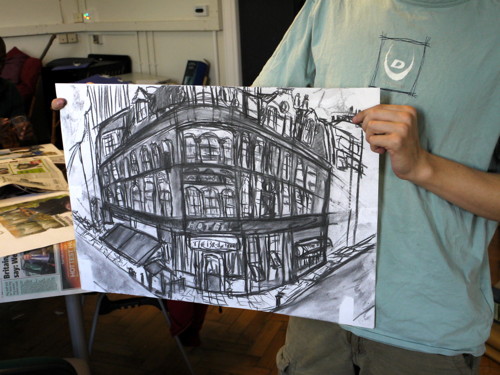 Our Students recently featured in the local news for their drawing skills.