Kakuma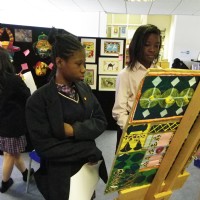 Please enter an introduction for your news story here
Kakuma
Working with the charity Mystart and having the exhibition of works from the people of Kakuma refugee camp in our school has been not only enriching but also enlightening.
Our students have been very passionate about ensuring they raised not only money but also awareness across our school and the wider community about refugees situations and the Kakuma camp in Kenya.
We have learnt a huge amount from the works on show,including the inspiring films and animations made in the Charities workshopsin Kenya. It was wonderful to see our students engage with the work journals made by children and young people on the camp. Having physical artifacts to look at, touch and read really helped make the experience very real, and are a great way of communicating across cultures and countries.
Arts Evening this year helped to raise money for this charity and inspired many Artworks, including performances, Music and Dance. There were even cross curricular projects carried out in lessons.
"Some fantastic Geographical links in the workshop with some very pointed, thought provoking geographical questions. Well done to all involved especially Bruce Ingram (resident artist) for the delivery. Thank you Bruce"
Lyndsay Thakrah Head of Geography SSSO
Our amazing students raised £1500 for Kakuma through events they organised over the summer term.