D of E Bronze Practice Expedition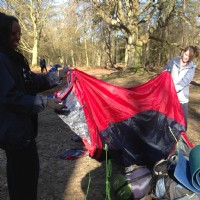 38 Year 10 student's go camping for their D of E Bronze practice expedition.
On a beautiful spring weekend 38 Year 10 student's met with fully loaded rucksacks at London Bridge station for their DofE Bronze practice expedition. Everyone caught the train to East Grinstead in Sussex. Packs had a final inspection before the student's set out for the lunch stop at Weir Wood Resovoir.
The sun shone all day as the girls, in groups of four to seven, walked onto their campsite at Broadstone Warren. After a whole day walking through fields and footpaths tents had to be put up, meals cooked and fire wood collected for the camp fire.
We woke to a beautifully crisp morning and more sun. Tents had to be taken down, sleeping bags stuffed back into sacks and weary feet put back into cold boots!
Breakfasts of porridge, pancakes, sausages and beans were cooked, accompanied by hot chocolates for cold fingers. The girls then set off for East Grinstead station via the Sussex way footpath.
Tired bodies and bags piled back onto the train for the return to London. Thanks to Ms Charlton, Ms. Thakrah, Ms. Strang and Ms. Brannen that helped over the weekend. The students now have to complete their assessed expedition later this year.