Emmanuel Jal - We Want Peace tour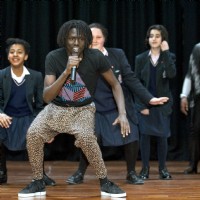 On Tuesday 14th January 2014 Emmanuel Jal visited St Saviours and St Olave's School. Through spoken work and performance he shared his incredible story with an audience of 300 students from years 8, 10, 12 and 13.
St Saviour's & St Olave's was the only school in South London included on Emmanuel's 5-date 'We Want Peace' Educational tour of the UK.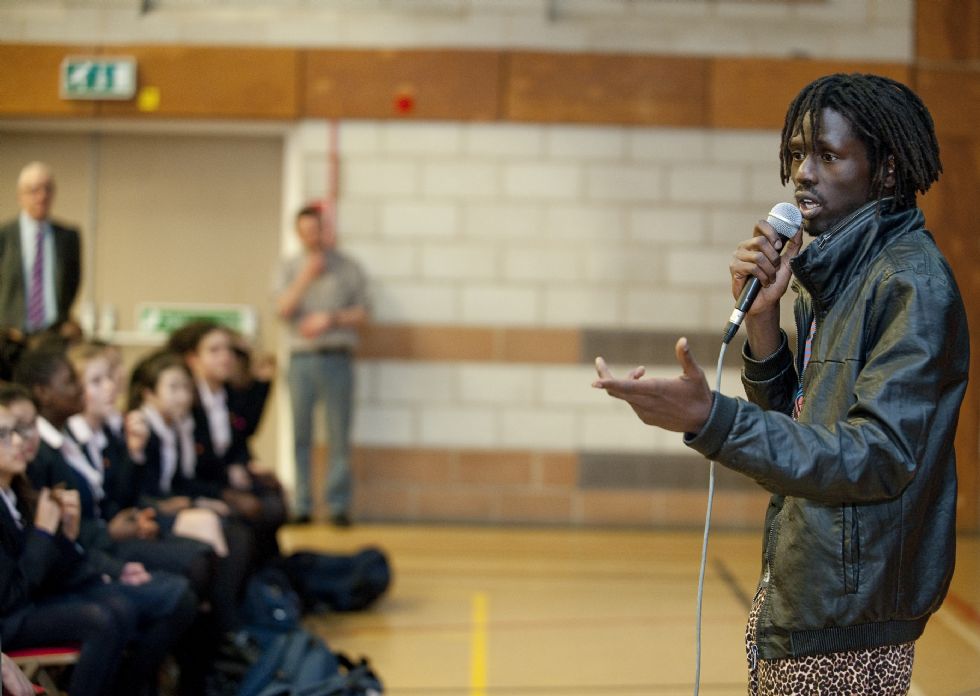 Headteacher Catherine May said
"It was a great privilege to welcome Emmanuel Jal to st Saviour's & St Olave's this week. Through spoken word and song he shared a little of his life story; from child soldier, to rescued refugee, to peace activist. He shared moments of joy and unimaginable hardship, and did so with complete honesty and humility. His message was of peace and reconciliation, and of the power of education to change the world.
Our students, staff and governors were moved and inspired by his visit, and will now take his message forward. I'm sure we can look forward to future events aiming to raise money and awareness for the causes Emmanuel brought to our attention."
Our students were obviously very inspired, saying
"I learned that there is always hope somewhere no matter how desperate the situation, and if we work together we can make changes and help other children like Emmanuel Jal to survive. There are so many things we just should not take for granted" Nariah Nyack-Kaye yr 8
"Emmanuel Jal's talk on his life story was inspiring and moving. We were all very shocked and sympathetic and it made us want to spread his message of peace even more. The music and vibe was spectacular and everyone was buzzing with joy". Kayleigh Yip Yr 10
"It was so powerful to hear about his childhood and becoming a child soilder, also how a stranger saved his life". Iyesha Kebe yr 12
"Extremely inspirational and exciting, it opened up my eyes to things in the world that are not mentioned enough. It made me so thankful for the peaceful life that I live"
Monique Barnes, Yr 12