A Soup-er Success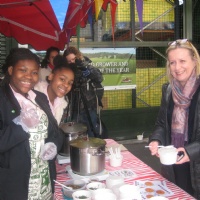 Students involved in Fair Share Project.
Year 9 raise £138 for Fareshare!
Year 9 students were given the fantastic opportunity to work with School Food Matters on a project to raise money for the charity Fareshare, a food poverty organization which diverts good food destined for the bin to worthy cause.
Students took part in master classes in bread and soup making at Borough Market and were also taught how to transform food waste into valuable ingredients. The students were amazed to see how they could transform vegetables peelings and leftover bits of vegetables into a delicious stock.
Chef Nicole Pisani took the students on a tour of borough market to look at the array of different vegetables, herbs and spices, which gave us lots of ideas for our soup recipe.
After trailing a range of soup recipes, the students created a tasty spicy roasted vegetable soup which was so good that it passed the Borough Market Food Quality Panel!
We then went on to sell our soup and homemade ciabatta bread from their own stalls at the market, raising a whopping £138 for Fareshare which is equivalent to around 800 meals! In total £280 was raised by the 3 schools involved but we were delighted that the efforts of our students raised the most money!
Our young chefs were brilliant at drawing in the crowds, explaining about the fundraising and most importantly how to reduce food waste. Ms. Agnew even took to the microphone to do a sales pitch which drew even more interest.
The Mayor of Southwark, Cllr Dora Dixon-Fyle, came along to the sale day and commented on how delicious the soup tasted enjoying the little 'kick' of spice at the end! Ms May, Ms Gray and Ms Sinclair-Chambers also came along to the sale and were impressed at the students' professional and mature approach as well as their soup and bread making skills.
Everyone worked extremely hard and thoroughly enjoyed their experience as a market trader. I am extremely proud of them – Well done girls! Mrs Omolaso
Quotes from students:
"From our soup training we learned that every little ingredient adds more flavour"
"It's good business experience learning about advertising a product, and how to speak to people in order to make a sale"
"Fareshare do really good work with helping people who are homeless and also families who can't afford to feed themselves very well. I hope we can help them again in the future"
To find out more about this day go to the following blog: