Congratulations to Year 11 on their GCSE results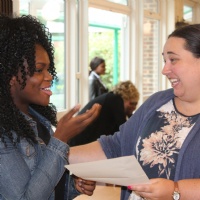 St Saviour's announce details of another strong set of GCSE results.
St Saviour's and St Olave's are delighted to announce this year's GCSE results following last week's A level successes. Well done to all of our girls, and we're very pleased that record numbers will be staying on to our sixth form.
Amongst many fantastic results, there were some outstanding outcomes for individual students. The following achieved all A*s and A grades:
Princess Imoru - 10 A*s and 1 A
Kim An Vu - 9 A*s and 2 As
Oyinlola Akinsanya - 7 A*s and 4 As
Georgia Long - 7 A*s and 3 As
Hannah Voong – 4 A*s and 6 As
These students along with a number of others will receive the prestigious 6th Form Dyer's Awards given to students to support their 6th Form studies following outstanding attainment in their GCSEs.
A summary of key information on the overall results can be found below:
90% of students achieved A* to C grades in English, English Language or English Literature;
77% of students achieved A* to C grades in Mathematics;
71% of students achieved the main government benchmark of 5 A* to C grades including English and Maths; 25% of all grades at A* or A; 42% of students achieved the English Baccalaureate.