Sir Simon Rattle conducts SSSO Student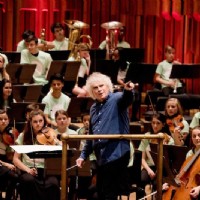 Macy (10O) plays in an orchestra conducted by Sir Simon Rattle
Macy Lawrence-Botu in Y10 has recently take part in a workshop with the world renowned conductor, Sir Simon Rattle. She describes her experience below:
Throughout January and February this year I was chosen (by audition), along with 100 other young London musicians, to participate in the Young Orchestra for London.
Young Orchestra for London was a unique opportunity and one of its kind. It was London's first mixed ability youth orchestra with musicians from all 33 London boroughs. We varied in age from 11-21 and ability from grade 3 to grade 8 standard or better. We were given a vigorous rehearsal schedule practising every Sunday from 9:30am until 5:00pm, and most Saturdays too! On top of that we had an all-day Thursday rehearsal on the 12th February for our first concert.
Over the months I spent working with the Young Orchestra for London, I met a collection of the most talented, most dedicated and passionate musicians that London had to offer. Throughout the weeks of rehearsals we were given the opportunity to work alongside and be coached by three of the most world-renowned orchestras: The London Philharmonic Orchestra, the London Symphony Orchestra, and the Berliner Philharmoniker. They gave us an insight into the ins and outs of orchestral life as well as helping us make our orchestra as professional as possible.
We also had the honour of being conducted by Sir Simon Rattle at the Barbican and Southbank Centre. For weeks we worked with Ben Gernon and Duncan Ward (conductors), to get the repertoire we were working on to a performance standard ready for Sir Simon to add the final touches. Finlandia, Op. 26 by Jean Sibelius was the first piece we played and thinking back to the first time we ran through it to the final performance on Sunday 15th February, it was clear we had all come a long way. Our other two pieces were Malcolm Arnold's Little Suite No. 2 Mvt 4 and 'Zero at the Bone' composed by Stephen Montague who we were lucky to meet. This gave him a time to tweak his piece and gave us a chance to experience working with a composer. Each piece was very different, yet they contrasted well.
Young Orchestra for London was a truly life changing experience and it has given me an inspirational insight to the life of a musician which I will take with me for the rest of my life.
Well done Macy!