God and the Big Bang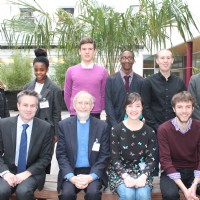 Students from five schools debate and learn about the interaction between faith and science.
Thursday, 29th January saw St Saviour's once again host a God and the Big Bang Conference for 6th Formers. This year's conference saw students from four local schools – St Michael's, City of London Academy, James Allen's Girls School and St Gabriel's join 29 Year 12 Religious Studies students. Designed to explore the interaction between Science and Religion, the conference saw academics educated and teaching at Durham, Cambridge and Oxford lecture, debate and demonstrate how scientific enquiry can complement religious faith.
We were privileged to have Revd. Dr Rodney Holder as the key note speaker. Dr. Holder had been the Course Director at the Faraday Institute for Science and Religion at the University of Cambridge and his talk was entitled 'Big Bang, Big God'. His wide-ranging comments explained how for him the universe was both so fine-tuned and reliant on a cause that the only explanation for its existence could be a divine being. He showed a range of examples from his studies of the Cosmos to highlight both the strength of his view and also why critics who suggested that God could not be behind the Big Bang were wrong.
The Conference finished with a panel discussion chaired by Mr Broughton, Deputy Head. Students were given free rein to ask a range of different questions and this sparked thoughtful and insightful debate. Both presenters and participants in the conference relished the chance to interact on these issues and we look forward to hosting another event like this one in the next academic year.