Commemoration Service 2013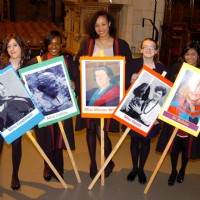 Once again, our annual Commemoration Service was a huge success, this year we celebrated the Schools 110th anniversary.
The annual Commemoration Service this year was a very special one. We celebrated our 110th anniversary by considering each era of the five headmistresses that have served our wonderful school. We heard how the school has changed over time, contrasting then with now through the evolution of the building, uniform and curriculum.
One element that has not changed is the desire that we should all treat each other equally, as humans made in the image of God. However, throughout history that has not always been the case. Consequently we reflected on the lives of those who have shown passion, determination and courage to ensure that our world has improved for the marginalised or oppressed such as Emmeline Pankhurst, Rosa Parks, Mother Teresa and Aung San Suu Kyi. Students held protest placards to illustrate these women and their beliefs, inspiring us to continue to make the world a better place.
Once again the music was magnificent with a range of choirs praising God in different tongues using a range of instruments, singing words of worship to fill the Cathedral and help us reflect on the school and world in which we live. Many of the songs were favourites of Dr Bishop and this was another reason why the service was so special as it gave the students the chance to celebrate the leadership of Dr Bishop in her final whole school Cathedral service. Each form had signed cards and written messages of thanks which were presented to Dr Bishop as we heard of her many achievements and successes whilst Headmistress of this school. She will leave a school flourishing with learning and love, something that was evident throughout the service.